Join us on August 13th at 7:00 p.m. at the Free Library of Philadelphia (1901 Vine Street on Logan Circle) when our authors will include:
Propped against the bookcase in
Catherine Asaro
's home is the diploma of her Harvard Ph.D. in chemical physics. Nearby, dangling from the doorknob, is a bag stuffed with the tights and leotards she wears when she pulls herself away from her writing for ballet class. A former professional dancer, today Catherine is a bestselling author of science fiction and fantasy. She has won numerous awards, including the Nebula for her novel
The Quantum Rose
and her novella "The Space-time Pool." Her latest book,
The Bronze Skies
, came out in September 2017. It is a stand alone science fiction mystery in the Major Bhaajan universe (part of the Skolian Empire). Her next Major Bhaajan mystery,
The Vanished Seas
, will be available from Baen in the next year.
Catherine currently directs the Chesapeake Math Program, and has coached numerous math teams, including teams for math competitions at Harvard-MIT, Princeton, Mathcounts, as well as individual students in many contests include the USA Mathematical Olympiad. She is a member of SIGMA, a think tank of speculative writers that advises the government on future trends affecting national security. She is also known for her advocacy in bringing girls and women into STEM fields.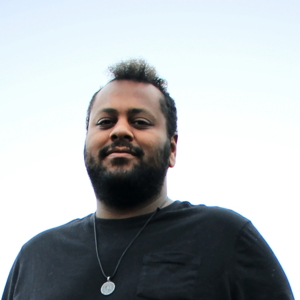 Na'amen Gobert Tilahun is a freelance writer who recently made the bicoastal move from West to East. He holds a B.A. in Creative Writing from San Francisco State University and an M.F.A. in Fiction and English from Mills College. He writes in multiple genres and has had work appear in Fantasy Magazine, io9.com, Queers Dig Time Lords, faggot dinosaur, Full of Crows, The Big Click, Eleven Eleven, Spelling The Hours, Loose Lips, Endless Ages and more. His debut novel, The Root, was named a Rainbow List Top Ten book for 2017 by the American Library Association who also named the sequel The Tree one of the Top Ten Sci-Fi/Fantasy books of 2018. You can find him on twitter when he should be writing – Naamenism.
Our Readings always take place at 7:00pm on a Tuesday.
Mark your calendar for the rest of 2019 with Readings on October 8th, and December 10. Subscribe to receive timely reminders so you never miss an event.